Books and CD's
Linda's books and CDs are developed from years of mentoring hundreds of clients. Affordable and accessible, they offer teachings – plus guided exercises you can do to immediately put those teachings to work in your life.
Ignite Your Vitality using Human Design
New eBook by Linda Landon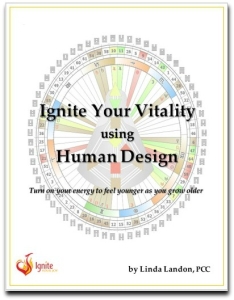 When I was introduced to Human Design and told that I'm a Projector, I was shocked, and secretly relieved. Even though I was doing everything 'right,' seeing lots of clients, and working harder than anyone I knew, I wasn't very happy, and my body was just plain worn out.
Human Design shifted everything. Now that I'm following my Projector strategy – Wait to be invited – my life is flowing with ease. I'm happier, healthier, and more successful! My body may be getting older, but I feel more vibrant than ever. And…. I wrote a new book!
Ignite your Vitality using Human Design introduces you to this cutting-edge technology that can quite simply transform your life!
The Power of Pause: simple meditations for complicated lives
Inspirational Writings with Audio MP3
by Linda Landon
This book with recordings in MP3 format, developed over years of Linda's work with clients, will teach you how to cultivate the power of pause. When we learn to pause, even in the most stressful situations, we can rest in the moment, shift our perception, ground back into ourselves, and revitalize our energy.
The first part of the book contains writings with experiential exercises that you can practice on your own or with a partner. Included are ten recordings in Linda's voice, to guide you though each exercise.
Some of the meditations can be practiced before you get out of bed, some while sitting in front of your computer, and others while you move through your day.
At the end of the book are several additional writings which you might also enjoy.
Listen to a Sample from the Audio CD included with the book:
Your First Thought
Now Available as a downloadable eBook

!